Farwell Farmers' Market Now Accepts EBT's!
HOW THE PROGRAM WORKS

The program revolves around a token system. Cardholders exchange their benefits at a wireless card terminal.
Benefits recipients head to the table at the Farwell Farmers' Market with the "Use Your EBT/SNAP - Credit/Debit Card Here!" banner.
Using your EBT/Credit/Debit/SNAP card, benefits to purchase as many $1or $5 tokens as you would like. These tokens can be used for food purchased in the market.
Benefits recipients may use the tokens at any market booth that displays the "EBT Accepted and/or Credit/Debit Accepted Here" sign.
HOW TO RECEIVE YOUR TOKENS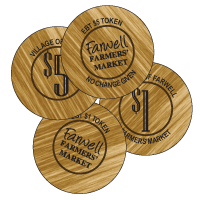 It's as easy as 1-2-3.

Go to the area marked EBT/SNAP - CREDIT/DEBIT
Swipe your Credit/Debit card for the amount you decide.
Receive your $1 and $5 tokens for the farmers' Market.
Look for participating vendors at the market (they will have signs posted) and SHOP and PAY!
WHAT CAN BE PURCHASED WITH EBT/SNAP TOKENS?
Farwell Farmers' Market offers a variety of fresh food options.
Fruits and vegetables
Breads
Maple and honey products
Seeds and plants that produce foods
Baked goods: wrapped, labeled and intended for home consumption Jams, sauces, soups, etc...