Rules and Policies for Farwell Farmers' Market
SCOPE OF OPERATION
The Farwell Farmers' Market is hereby defined as Village approved and regulated marketplace designed for the sale of farm produce, prepared foods, and arts and crafts as designated below. The organization of the Market, the rules and regulations of the Market, the administration of the Market and the management of the Market, including the settlement of any dispute is under the authority of the Market Advisory Board which is organized under the authority of the Council Board.
DAY & TIME OF OPERATION
May 5th through October 13th, 2018
Open Saturdays - 9am to 2pm
Located at the corner of South Hall & Illinois - set up at 8am

FEES
· $8.00 for a vendor space (9am to 2pm)
· $20.00 for Lumberjack Festival (9am to 4pm)
· $5.00 extra for electricity use
· $5.00 extra for table and chair rental
· $10.00 extra for canopy rental
· $125.00 Full Season (Saturdays)
· We have inside and outside 10'x10' spaces available
FFM invites master gardeners, 4-H, donkey rescue, food sampling, and musicians to play their music for the customer's entertainment.  The market offers a refreshment area where water and coffee are offered to all (but donations are welcome) and a play area for children offering farm bingo and coloring books.
ITEMS ALLOWED FOR SALE
Michigan grown fruits, vegetables, and nuts
Michigan produced meat, and poultry products
Dairy ~ must have own State license
Plants, seedlings, and transplants
Eggs, honey, maple syrup
Fresh or dried flowers
Food products such as jam, jellies, baked goods
Non-food animal products such as fiber, fleece, feathers, yarn
Hand-made arts & crafts
ITEMS NOT ALLOWED FOR SALE
(But you can advertise them.)

Live animals
Rummage sale
Wholesale items for resale
Flea market or trinket items
Acidified foods, i.e. pickles, etc
Low-acid canned foods, i.e. green beans, corn, pickles, etc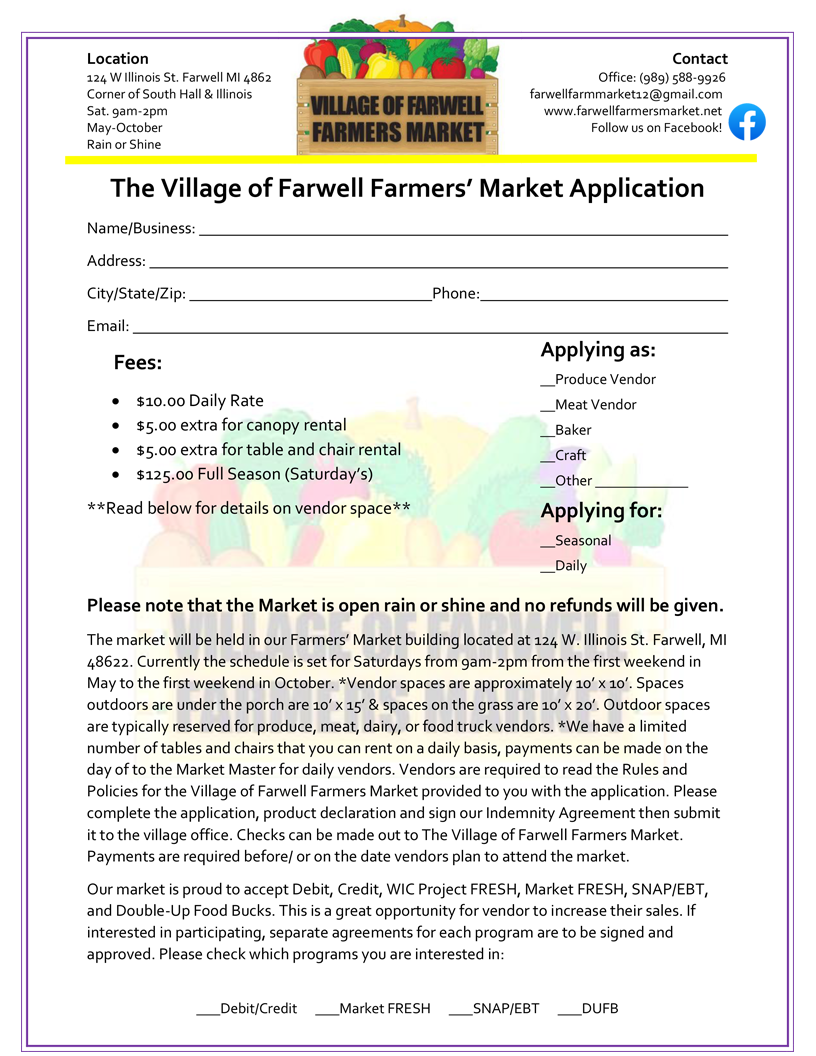 2018 Vendor Application available soon. Please check back.